May 2021 Newsletter
Posted on: May 28, 2021
From the Executive Director
May is Older Americans Month and this year's theme is "Communities of Strength." Senior citizens have been one of the highest risk groups throughout the COVID-19 pandemic, not only for contracting the coronavirus, but for falling victim to schemes seeking to take advantage of vulnerable people. SLLS provides a range of legal services aimed to protect senior citizens. Our attorneys assist seniors with legal issues like foreclosure prevention assistance with reverse mortgage lenders, wills/successions, and consumer problems like scams that threaten their financial security. We also bring legal education to libraries across our service areas to make information accessible to seniors who are not tech savvy. With access to the civil legal aid when they need it most, our seniors can remain strong and resilient members of the community.
Laura Tuggle
Executive Director
SLLS Helps Senior Citizens Get Stability
Roberta, a senior citizen undergoing cancer treatment, got behind on her mortgage and was facing foreclosure. By the time she was referred to SLLS for help, it was almost too late. The mortgage lender had hired their own attorney, and added thousands of dollars in extra fees to her debt. Her SLLS attorney acted quickly to begin the process to reinstate her mortgage. With our help, she was approved for $10,000 in mortgage assistance from Catholic Charities. Through the swift and diligent work of SLLS, her foreclosure was prevented. Now Roberta can focus on her health recovery in her own home.
Lionel, a 70-year-old man living in a homeless shelter, reached out to SLLS for assistance getting access to his social security benefits. With no permanent address or phone number he was unable to get a debit card. His attorney tried to submit documentation, so he could access the funds, but the bank would not accept the shelter address. Because he was too frail to travel by bus alone, his attorney took him to the bank. They discovered he already had an account and that $1,830 was being deposited into his account monthly. He had over $10,000 saved and had no idea it was there! Since he had not been receiving any mail at the homeless shelter, he had lost track of the account. With this income and savings he'll be able to get out of the shelter and into permanent housing.
SLLS Wins Big at LSBA Pro Bono Publico and Children's Law Awards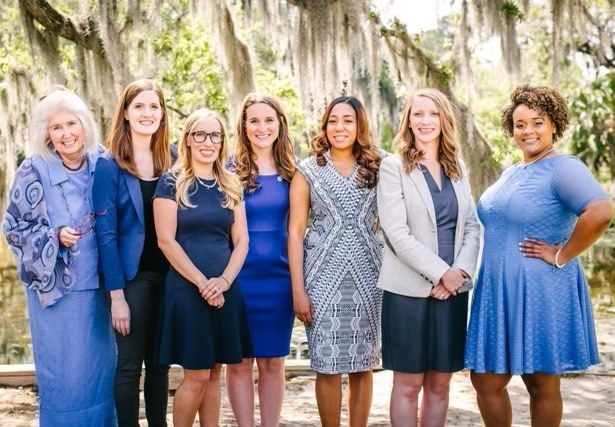 SLLS Child in Need of Care (CINC) Unit
L-R: Mary Ann Swaim, Alexandra Kamp, Rella Zaplatel, Kirby Kenny, Josephine Vanderhorst, Managing Attorney, Emily Aucoin, and Natalie Paul.
SLLS was well represented at the Louisiana State Bar Association's 2021 Pro Bono Publico and Children's Law Awards! Congratulations to our Child in Need of Care Unit, Children's Law Award; Andrea Jeanmarie, managing attorney of our Westbank office, Career Public Interest Award; Dr. Kathleen Crapanzano, SLLS Homeless One Stop Legal Clinic, Friend of Pro Bono Award; Christopher Ralston, SLLS Board Member, David A. Hamilton Lifetime Achievement Award; and our Northshore Pro Bono program volunteers Patricia Bonneau, Frances Strayham, & Ana Lopez, Pro Bono Publico Awards.
SLLS Providing Services in New Sexual Assault Center
Pictured above at the Washington Parish Sexual Assault Center grand opening are SLLS staff members Paula Charles, Theresa Robertson and Camille Kinsey.
SLLS will be providing legal services to survivors of domestic violence and sexual assault at the new satellite location of the Washington Parish Sexual Assault Center. An SLLS staff members will be on-site at the center on Mondays from 9 am to 4 pm. You can learn more about the center here.
The SLLS blog has lots of information on changes to COVID-19 benefit programs, new tax credits, rental assistance and much more. Check it out at www.slls.org/blog.