February 2020 Newsletter
Posted on: February 14, 2020
February 2020
This Valentine's Day season, we want to take a moment to express our love and gratitude to the hundreds of volunteers, partners, and supporters who join us every day in the fight for fairness for low-income and vulnerable people. Your dedication breaks down legal barriers to stability and makes our communities more fair and more just for all.
Thank you!
-Laura Tuggle, SLLS Executive Director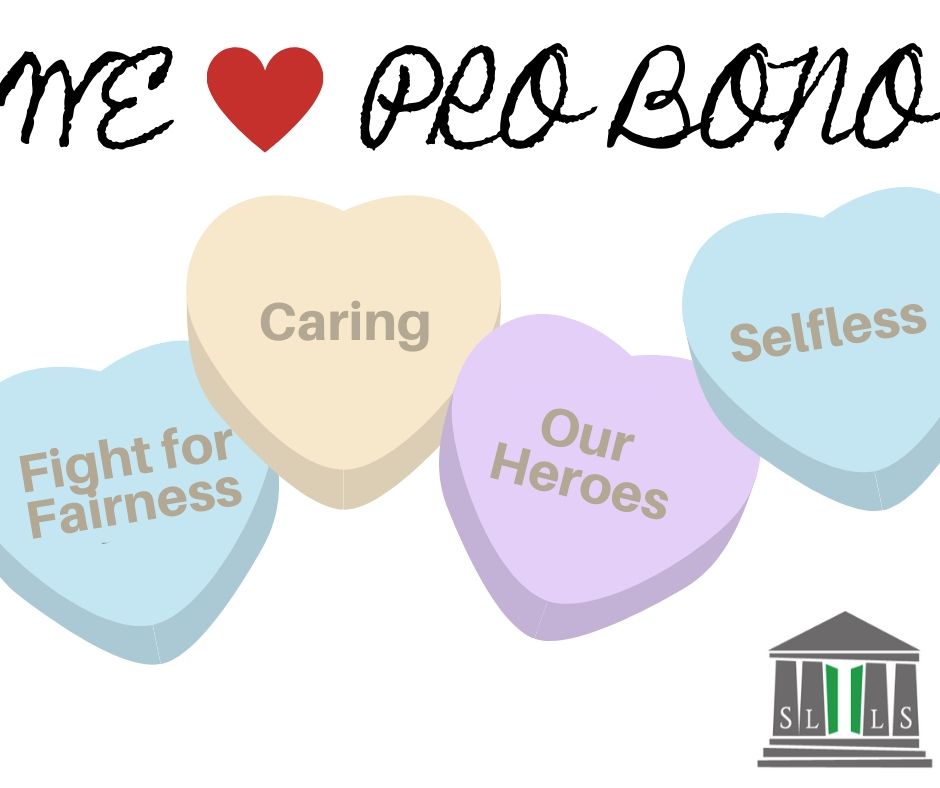 Pro Bono Attorneys Change Lives
Pro bono attorneys, law students, and other professionals volunteer with SLLS staff to provide free legal representation and education to low-income people. Their dedication makes a real difference, improving the lives of vulnerable people who otherwise could not afford the legal help they need.
To learn more about how you can move the needle on justice by volunteering at Southeast Louisiana Legal Services, visit: https://slls.org/get-involved/ or contact Elena Perez, Pro Bono Managing Attorney, at (504) 529-1000 or eperez@slls.org.
In 2016, Donna*'s elderly mother passed away. At the time, Donna lived 25 minutes away from her mother's house in Washington Parish. Her cousins asked to move into her mother's home, which she allowed them to do since she needed to stay close to her job. Two years later, Donna learned that her cousins had held two yard sales, selling off her mother's belongings. She was heartbroken.
Because Donna had never filed for a succession after her mother died, she could not do anything about her cousins' betrayal of her trust. She knew she needed title to the home, but couldn't afford to pay for an attorney. She feared the succession would be expensive and complicated because her mother hadn't written a will. Donna contacted SLLS' Hammond office asking for help. After gathering information, we connected Donna to Ms. Lindsey Olsen, a pro bono attorney with our SLLS Northshore Pro Bono Project. Ms. Olsen determined that Donna didn't need to go to court to do the succession. She helped Donna execute a small succession affidavit so she could have legal title to her family home.
Donna was so grateful for SLLS and Ms. Olsen's help. She said, "Your crew did a wonderful job helping me with my legal problems… I just want to thank you and your staff for helping me with everything. Ms. Lindsey Olsen was great and very nice, helpful to all of my needs and I just want to say thank you." We join Donna to say thank you to Ms. Olsen and to all of the other SLLS volunteers who improve the lives of low-income people every day.
* Some facts have been altered to protect the identity of our client.
Calling for Volunteer Advisory Board Members
In 2019, our supporters helped protect the legal rights of over 25,000 children, domestic violence survivors, low-wage workers, seniors, veterans, and other vulnerable people. This success would not be possible without a team of amazing volunteers helping to raise awareness of mission and funds to support our work.
The SLLS Advisory Board is a non-governing body that enables SLLS to grow strategically and to meet the dire needs of the vulnerable people we serve. Its mission is to help raise community support, awareness, and critical funds for SLLS's fight for fairness and justice in our state. They represent SLLS, advocate for funding for civil legal aid, and help coordinate several fundraising initiatives - including our GiveNOLA Day activities and our "Bar Exam" trivia nights in Baton Rouge and in New Orleans.
Thank you to the 2019 SLLS Advisory Board (also known as the "50 More Years Committee")!
If you'd like more information about the SLLS Advisory Board or would like to join our Advisory Board, please contact Gwynne Mashon, Director of Development & Advocacy, at gmashon@slls.org.
Above photos from the 2019 New Orleans "Bar Exam" presented by Sher Garner Cahill Richter Klein & Hilbert LLC and from the 2019 Baton Rouge "Bar Exam" See more photos from these event by clicking on the photos.
Thank you to the 2019 "50 More Years" Advisory Board Committee!
Stephen Armbruster
Ashley Aubrey Harrison
Joseph Ballard
Mary Barrios
David F. Bienvenu
Sarah Bradley
Lauren Bridges
Lindsay Calhoun
Preston Castille
Kurt Duncan
Jean Faria
Edmund Giering
Vivian B. Guillory
Julia Jack
Christy Kane
Damon Kirin
Patricia Krebs
Lynne Landreneau
R. L. Landreneau, Jr.
Don Paul Landry
Scott Loeb
Brandt Lorio
Sarah McMorris Marcello
Gerald Meunier
Marla Mitchell
John Y. Pearce
Chris Ralston
Elizabeth Sconzert
Stewart Spielman
Ali Spindler
Shenelle Stanton
Mark Surprenant
Paul A. Tabary III
Rolando Urbina
R. Patrick Vance
Lance Waters
Plezetta West
Jefferey Wittenbrink
Brittany Wolf-Freedman
Julia Zuckerman
Preparing for Your 2019 Taxes Part II
This month, as part of our new Low-Income Taxpayer Clinic (LITC)Know Your Rights series, we discuss the federal Earned Income Tax Credit - who qualifies, how to avoid common problems, and how to get help claiming the credits you deserve. Click on the image below to check out the video and get information on free resources to help low-income taxpayers prepare their tax returns.
SLLS LITC presents "What You Should Know About the Earned Income Taxpayer"
Below are the remaining SLLS LITC Facebook Live events. We hope you will join us at https://www.facebook.com/SLLSHelps/
March 10, 2020 at 4:30pm: Filing Taxes when You are Self-Employed or are an Independent Contractor
March 31, 2020 at 4:30pm: How to Avoid Identity Theft
Ready to take the fight for fairness to the next level?
Follow us on Facebook and stay up-to-date on all of our future events.